Allen Edmonds Shoe Repairs:
We gladly repair almost any shoe! However, there are a few interesting facts to know about different brands of dress shoes regarding quality, and longevity.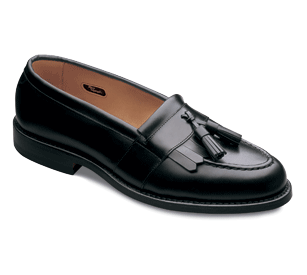 Allen-Edmonds is one of those companies that is hard to compare. Their shoes are all handcrafted, with construction methods that are hard to beat. It is not unusual for a pair of these shoes to last over 10 years, and be resoled 5 or more times. While some might see these as expensive, they are a good investment if you want to get a lot of wear out of a pair of dress shoes. We recommend nothing less than a full sole and heel on these shoes when it's time for a repair, as a pair of these shoes will take just as good care of you, as you take care of it. Cedar shoe trees and rotation in and out of your daily wear patters will GREATLY increase the life of these shoes, as the only problem we ever see with a pair of Allen-Edmonds is from the accumulation of moisture from daily wear without an opportunity to dry out. This moisture, in the form of perspiration, can really rot the bottom of any shoe, and these are no exception - this coupled with the longevity of the leather uppers in Allen Edmonds causes the leather in the footbed to wear out first. The only thing I can think of on the negative side from this company is this: When you pull off the heel base, it is not uncommon to see a leather sole stamped "fine" quality. "Fine" grade leather is not the best in quality. In fact, it ranks rather low in the scale. Why a company would spend all of the time and money to build such a great shoe, and turn around and put "fine" leather soles on them is beyond me. This problem is easily fixed, here at Hoover Shoe Repair, we use Super Prime leather, which is the best you can find.
Pros: Excellent leather and construction methods make this shoe repairable over and over again.
Cons: "Fine" leather soles. A little pricey, but you get what you pay for.
Bottom Line: If you want a long-lasting stylish shoe, and price is not an obstacle, these are great shoes. They can be fixed over and over again with few problems, as long as you take precautions to maintain them. Make sure you keep the leather from drying out by shining them, use cedar shoe trees and wear them every other day, and this shoe can last a REALLY long time.