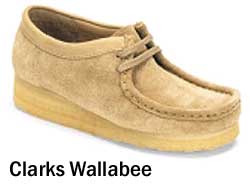 Perhaps best known for their ever popular shoe, the Wallabee, Clarks footwear has been around for almost 200 years.
Clarks footwear consumers enjoy a commitment to quality, comfort, and style from a company they can trust. The broad variety of styles includes the best in casual footwear and sandals, as well as styles ranging from rugged outdoor to dress shoes.
Hoover Shoe Repair is a proud retailer of Clarks shoes.