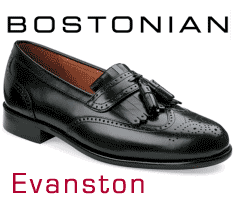 The Bostonian Evanston. Perforated wingtip kilted tassel loafer:.
Classic styling and detail with a polished leather finish.
First/Flex construction and leather linings and leather soles conform to your foot - preventing irritation and giving a custom fit without break-in.
Features a buffed pre-flexed leather outsole.
$79.99
Colors:

Black and Burgundy. Multiple sizes and widths always in stock!