Tauer and Johnson Shoes.
"Our mission is to provide truly comfortable quality footwear by combining the latest technologies with the tradition of generations of bench crafted footwear."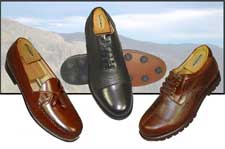 We make shoes in ALL sizes and ALL widths from AAA to EEEEE!

Our shoes are "Kid Skin" leather lined (like a fine glove) and cushioned for maximum comfort and quality. All shoes come with "Kid Skin" leather lined inserts to provide even more comfort. They are manufactured with extra depth to allow for orthotics of all sizes to be used.

First, we measure each foot individually using the latest techniques and provide each customer with an appropriate fitting shoe to try on your feet. You will decide how you like your shoe to fit on each foot! We will make the exact fit that you prefer. Then knowing the exact last feel that you like, we are ready to start the process to make you a custom fit, comfortable pair of Tauer & Johnson shoes.

We use computer generated lasts to be the form for your shoes and a computer to cut the pattern of the shoe style you selected. From this point on it is finished by crafts people with perfection as the leather cutter puts a hide on the cutting table and selects the right place to lay the pattern and cut the leather by hand to enhance the look of the shoe. The process is finished in the old tradition of patiently molding and forming the leather you selected over the last shape used to measure your feet. All of our shoes are made airport friendly, with fiberglass shanks.

The final product is a bench crafted pair of shoes that will fit each foot in a most comfortable way providing years of walking comfort and style that will make both of us proud!

Fit:

Shoes sizes are not standard. With Tauer & Johnson each foot is measured individually to get the very best fit for you!

Style:
Select from dozens of popular styles, from classic to contemporary, from traditional to totally hip!


Leather:
Select the leather you prefer to make your shoes match your taste.
Calf - Our softest most supple leather providing durability with great comfort. Available in Black, Burgundy & Tan.
Class - A very high sheen leather for individuals who prefer the more polished look. Available in Black, Burgundy & Tan.
Cyclone - A durable oil leather most often used in casual footwear. Available in Brown.
Patent - A tuxedo style leather used for formal occasions. Available in Black.
NEW! American Bison - Our NEW rugged look of Bison combines natural durability with extraordinary strength and comfort! Available in Black, Burgundy & Brown.
Special Requests - If you don't see the color you like ask we might be able to find it!
Soles:

The Sole of the shoe is every bit as important as any other part of the shoe. Select from several styles.
Leather - We only carry finest, durable and Natural Leather Soles.
Flex Bar - Flexible, Non-Skid Leather Rubble Combination Soles.
Rope - Soft Crepe Sole, very comfortable to walk in, cushions your every step. Available in Black & Brown.
Mini Lug - Rubber soles for the rugged outdoor casual look. Available in Black & Brown.
Boat - The perfect sole for use on your boat or any surfaces you worry about scuffs. Available in Honey and Nicotine.
Special Order - We carry several Vibram soles call for availability! Available in Black & Brown.